12

Data Capture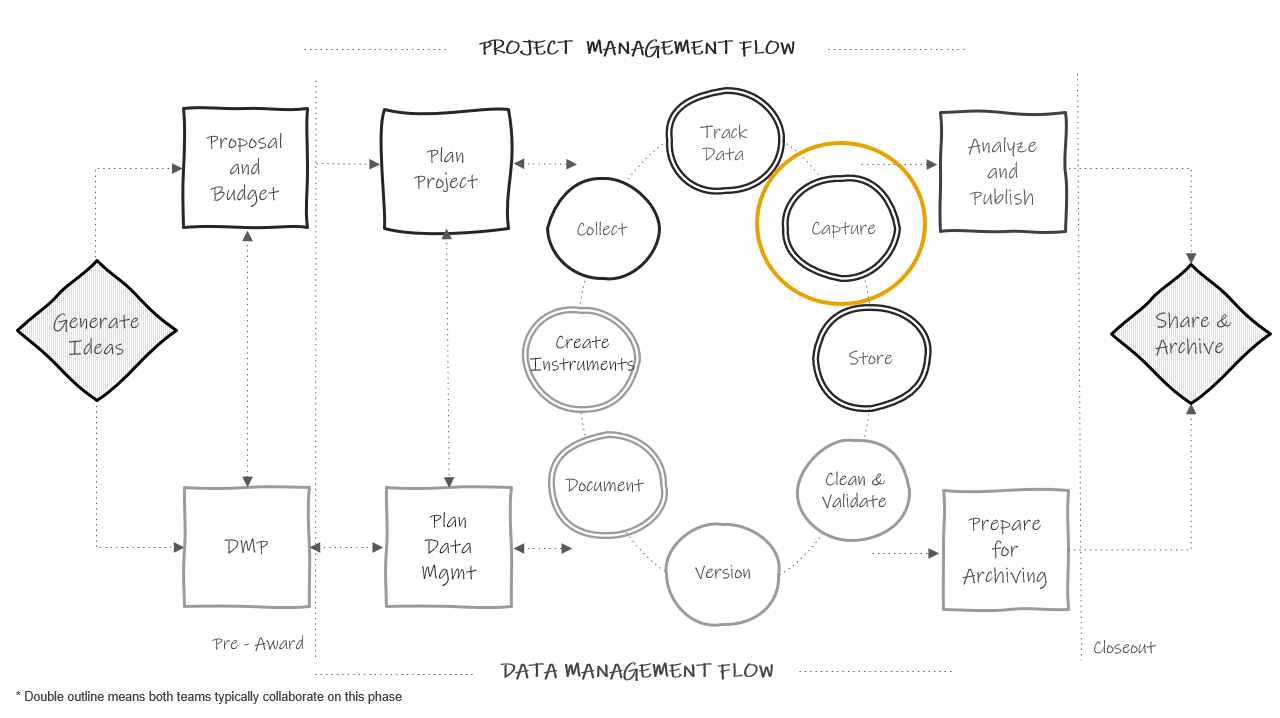 After the data collection period is complete, the next phase in the cycle is to capture the data, meaning extracting, creating, or acquiring a file that we can save in our designated storage location. In quantitative research we typically want to capture data in an electronic, rectangular format (see Chapter 3). In this chapter we will review common ways to capture data based on three data collection methods (see Figure 12.2). Similar to data collection, it is possible for data errors to occur during this phase. In reviewing data capture methods, we will also cover how data quality can be managed during this phase.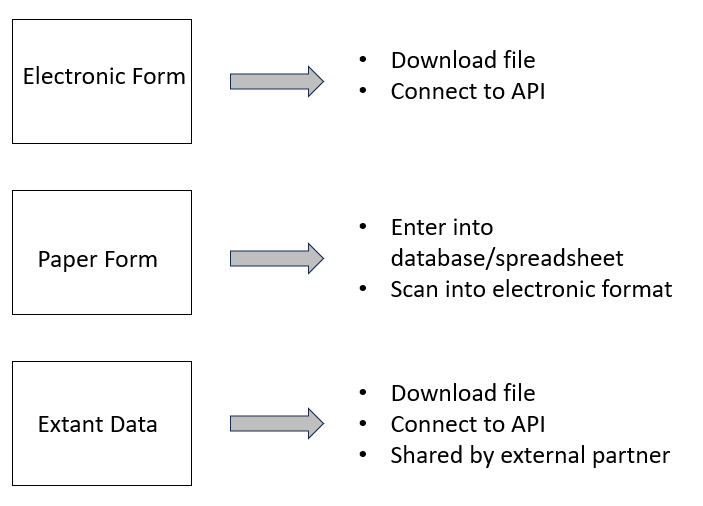 12.1

Electronic data capture

As discussed in Chapter 11, electronic data can be collected using a variety of software (either web-based or offline). Since electronic forms typically funnel data into a spreadsheet or database, it makes the process of data capture much easier compared to paper data. However, there is still much to consider.
How will the data be captured?

The most common way to capture data in an electronic format is to download it from your platform.
Another option you may have for web-based forms is to capture data via an API (application programming interface). If you regularly need to review your data before your final capture, using an API can be a great way to remove the burden of manually logging into a program and going through the point and click process of downloading a file. Instead you can write a script, in a program such as R, to extract the data. Once the script is created, you can run it as often as you want. However, this is only an option if your tool has an API available (e.g., Qualtrics).

What file type will the data be captured in?

Most electronic data collection tools provide an option to export to one or more file formats (e.g., SAV, CSV, TXT). It is important to choose a file type that is analyzable (i.e., rectangular formatted), as opposed to something like a PDF file. The rectangular file type you choose will mostly depend on your project plans. Things to consider might include:

Do you want the text values for responses or the numeric values? Your choice may limit your options (e.g., text values may be available in a CSV but not in an SPSS file).
Do you want embedded metadata, such as variable and value labels, in your raw file? Again, your choice will narrow your options (e.g., an SPSS file allows you to export the numeric values while also being able to view the variable and value labels in the file).
Do you want a non-proprietary, interoperable format? If yes, you will not want to capture data in file types such as XLSX and SPSS that require proprietary software to view.
Will any file types create issues for your variables?

For instance, Microsoft Excel is well-known for applying unwanted formatting to values. As an example, if your assessment tool collects age in the format of "years-months", oftentimes Microsoft Excel will change this variable into a date, converting a value such as "10-2" (10 years and 2 months old) to "2-Oct". A more suitable file type in this situation may be a CSV or TXT file, which do not apply formatting.

Is there a file structure that you don't want to work with?

As an example, the structure of an SPSS file may look different compared to a XLSX file depending on the tool. In a tool like Qualtrics, an XLSX or CSV file may export with multiple header rows whereas an SPSS file does not.

What additional formatting options need to be considered?

In addition to choosing a file type, there may be other options that your tool allows you to consider. Examples of what these might look like are:

Do you want to export the text values or numeric values for categorical items?
How do you want to export "select all" questions?

Depending on your chosen file type, you may be allowed to choose how you want to format "select all" questions. Typically your options are to export them in one variable, where each option is separated by a comma, or you can split each option into its own column.

How do you want to recode seen but missing values?

This option is commonly provided because "select all" questions are often split out into multiple variables, where a 1 indicates the option was selected, and blank represents either the option was not selected or that the item was skipped entirely.
Typically tools provide the option to recode to 0 or -99. You can also choose not to recode and leave those responses as blank. If the types of missing data do not matter to your study, then leaving missing values as blank is typically the most straightforward option. However, adding an extreme value like -99 can make it easier to know if those blank "select all" values are a "no" response (recoded to -99) or if those values were never seen and actually represent a missing value (left as blank).

Where will the file be stored?

This decision should be based on guidelines laid out in your style guide (see Chapter 9) and your applicable data security documents and agreements (i.e., data management plan, data security plan, research protocol).

How will files be named?

While your tool may provide a name for your file, it may need to be renamed something more meaningful based on your style guide rules (e.g., projecta_w1_stu_svy_raw_2023-09-01.csv). Most importantly, name your files consistently across data sources and waves.

What documentation needs to accompany the data capture?

As discussed in Section 8.3, there are additional documents that can be helpful to include alongside the file.

A README can be very beneficial to include if there is anything in the file that a future person managing the data should be aware of.
A changelog can also be very beneficial. It is common to have to redownload a raw data file due to errors found or new participants added. A changelog can help the team both identify the most recent version of a raw data file, as well as understand the differences between files.

Who will capture the data?

It doesn't necessarily matter who takes on this responsibility. What matters most is that the person has the expertise to capture the data and that this responsibility is documented. If the person capturing the data is not the person who oversees data collection, it is important to still assign that person the responsibility of documenting any relevant information in the README.


What checks need to happen before this data is handed off?

It is important for the person responsible for data capture to do a basic review of the file before handing this data off for the next step.

Does the format of the file look as expected? Does it have data in it? Are all the variables there as expected?
Are all participants in the data? This is an excellent time to compare the number of unique participants in the file to the number of participants with completed data in your participant tracking database. If these numbers do not match, the person in charge of data capture should begin reconciling errors before handing off this data.

Was a participant accidentally dropped from the file? Is someone incorrectly marked as complete in the tracking database? Are there duplicate entries in the file?

If there are errors that can be corrected (e.g., someone incorrectly tracked a data point, a participant was left off in the capture process), those corrections should be made now. If there are corrections that involve manipulating the raw data (e.g., reconciling duplicate IDs in the data), those corrections should not be made at this time. Instead, those should be added to a README file to be corrected in the data cleaning phase.
Note

It is important to never make changes directly to the raw data files. This also includes not making changes directly to the data in your data collection tool. If you see errors in the raw data file that can't be fixed by simply re-downloading the data, make notes in a README for future correction as noted above. Those corrections can be made in the data cleaning process. The one exception to this rule is if you accidentally collect data on a non-consented participant. In this case, it may be best to delete data for this participant directly in your data collection tool so that no record is kept.
All of these decisions should be made and documented during the time you are developing data collection tools. Making these decisions early allows you to also implement them during the pilot testing and data checking processes. For instance, if you plan to capture your data by exporting a CSV file from your data collection platform with a variety of options selected, you will want to use this same method during your data piloting and data checking process. This allows you to know exactly what your data will look like once data collection is complete and make adjustments as needed.
As discussed in Chapter 6, your data capture process should be added to your workflow diagram and then detailed in an SOP. All of the decisions above should exist in the relevant SOP. This ensures that workflows are standardized and reproducible. As we've learned in this section, one deviation from the SOP has the potential to produce a very different data product (e.g., the format of a CSV file compared to an SPSS file can vary). Not only can this produce errors but it can also undermine the reproducibility of a data cleaning pipeline. Imagine a scenario where a data cleaning syntax is written to import a CSV file with an expected format, and that format changes. The pipeline is no longer reproducible. Last, documenting a timeline for when this data capture process should occur can also be beneficial for both the person responsible for data capture, as well as people responsible for subsequent phases such as data cleaning.
12.2

Paper data capture

The most common method for capturing paper forms is manual entry. While capturing electronic data is fairly quick and straightforward, planning for and implementing paper data entry is much more involved. Similar to electronic data collection, you will want to start planning data entry long before your data is collected, and you will need to build your data entry tool before the data capture phase (e.g., when you are creating your data collection tools).

As you can imagine, manually entering data comes with the potential for many data quality issues. In developing a data entry process, it is important to implement quality assurance practices similar to those we discussed in Section 11.2.
Choose a quality data entry tool
Build your data entry form with the end in mind
Develop a data entry procedure
12.3

Extant data

It is common in education research to also capture external supplemental data sources to either link to your original data sources or to describe information about your sample. The process for capturing this externally collected data will vary widely depending on the source. Furthermore, the quality and usability of the data can also vary widely. In this section we are going to review some practices that will help you acquire better, more interpretable data. We will divide this discussion between two types of data sources, non-public and public.
12.3.1

Non-public data sources

Non-public, or restricted-use, data sources are files that cannot be directly accessed from a public website (e.g., school records data, statewide longitudinal data systems). These data are typically individual-level and may contain sensitive, usually identifiable, information or a combination of variables that could enable identification. Acquiring these sources usually involves a data request process (see Figure 12.5). This process may or may not be part of larger request for research process (e.g., if also collecting original data in school districts). In addition to an application or proposal, this request process may also include the submission of one or more of the agreements discussed in Section 4 (e.g., informed consent, DUA, confidentiality agreement).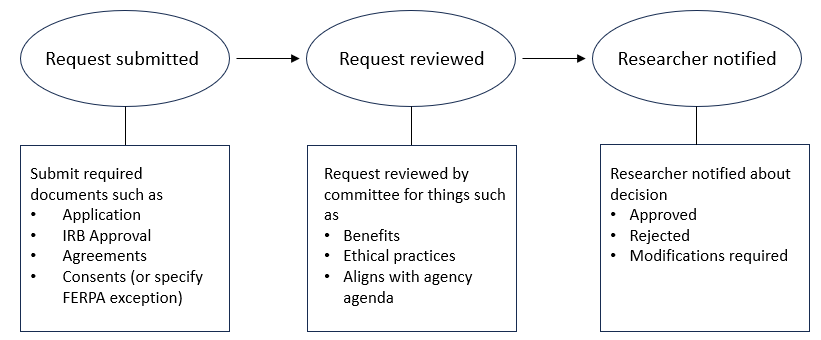 If not already included in the provider's data request process, it is important to share the following information:
A list of variables you are requesting

If you plan to link data, make sure to request a unique identifier that both you've collected and that exists in the external data (e.g., state student unique identifier), or a combination of identifiers (e.g., name and DOB), which allows you to link the external data to your existing original data.

If you are planning to combine data from multiple sources (e.g., multiple school districts), this can require hours of harmonization to make data comparable due to variations in how data is collected across agencies. If there is some flexibility in the request process, it can be helpful to provide details to your data provider about how you would like the variables to be formatted, helping to standardize inputs and removing any room for interpretation (Feeney et al. 2021).

Variable type (e.g., numeric, text)
Variable formats (e.g., DOB as YYYY-MM-DD)
Value coding (e.g., specify how to code FRPL categories)
How to handle missing data (e.g., leave cell blank)
How to aggregate summary data (e.g., number of days absent for the full year or by term)
For calculated variables (e.g., age at assessment) consider requesting the raw inputs to calculate your own values (e.g., request date of assessment and DOB)
Figure 12.6 is an example of how you might provide this information to a data provider.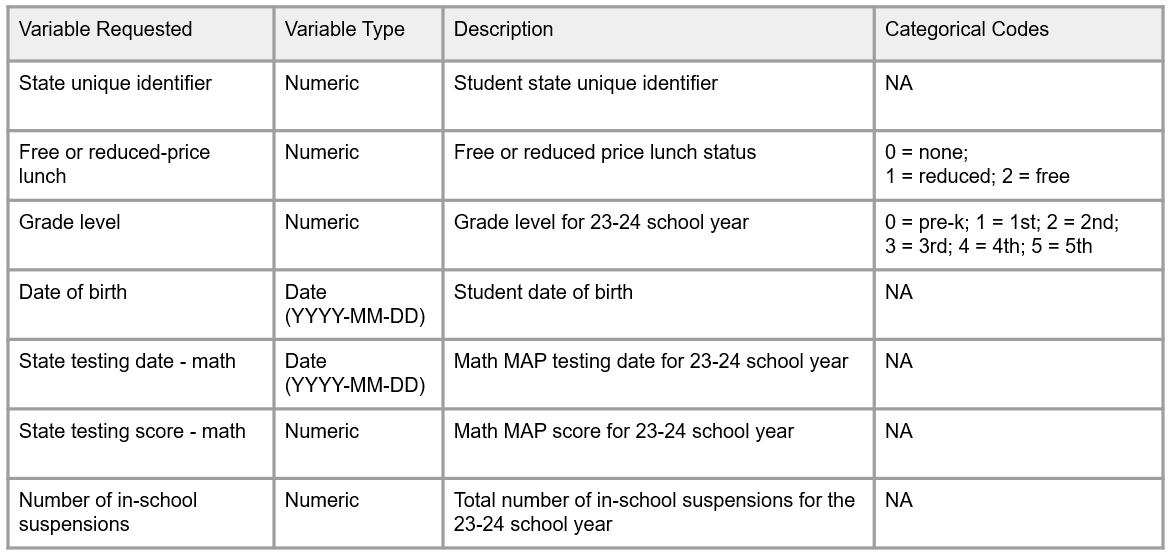 Clarify the periods you are requesting data for

This may be the current year alone, or you may also need the previous year as well for comparison

Ask how and when data will be shared

Ask how many data files will be provided and what each file will contain (e.g., enrollment file, assessment file, attendance file)
Provide a preferred file format for the data (e.g., CSV file)
Request a timeline for when data will be shared

Ask how data will be shared (e.g., email, drop in a secure folder). If the data contain identifiable information, make sure to use a secure file transfer method (see Chapter 13). Once received, make sure to follow any data sharing agreements around how data should be stored.


Identify points of contact

Not only do you need contact information for acquiring the data, you also need to know who to contact for any questions or concerns that come up after the data is received.

Request documentation to accompany your file

Receiving data dictionaries or codebooks along with your data will be vital in allowing you to correctly interpret variables. This is especially important when observing variations in how variables are measured across sites or even within sites across time (e.g., a test score is measured differently in a subsequent year)
If documentation does not exist, provide the data provider with a form to complete that allows them to enter relevant, variable information.

What each variable represents
What each value represents if the variable is categorical
How each variable is captured or calculated (e.g., hand entered)
The universe for each variable (e.g., grades 3-5)
Any data quality concerns about any of the variables

If you receive new exports each year, make sure to request documentation each year. It is possible that the way variables are collected or recorded change over time.
Figure 12.7 is an example of a document you can ask your data provider to complete.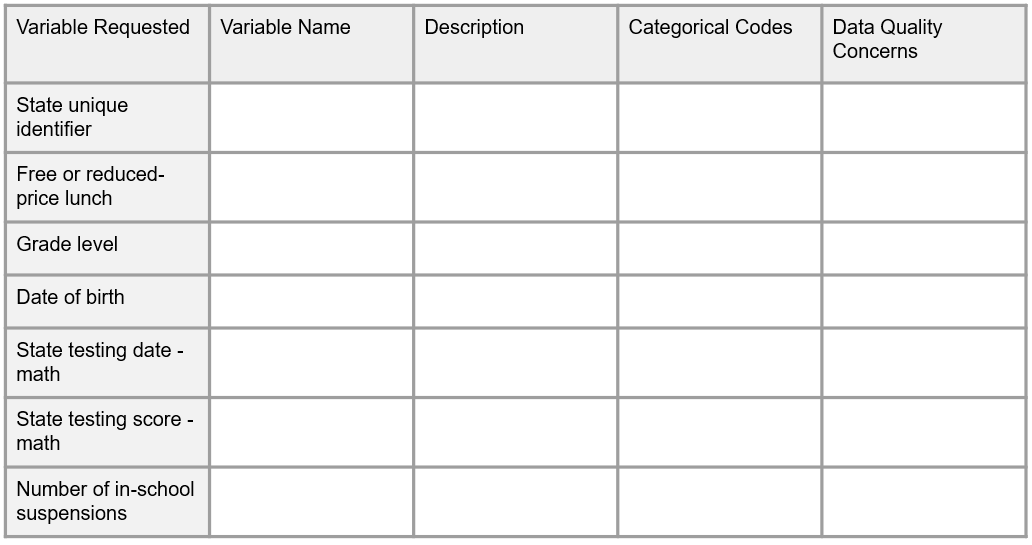 Note

When working with external datasets, it is possible to encounter inconsistencies across data sources (e.g., a student is shown in a different school across two files), as well as duplicate records within a data source (e.g., a student has two state reading assessment scores) (Levesque, Fitzgerald, and Pfeiffer 2015). These anomalies can happen due to human error or due to circumstances such as student mobility. While you may be able to work with your data provider to solve some data issues, for others it may be important for you to develop and document your own data management rules that you consistently apply to your external data sources during the data cleaning phase (e.g., if duplicate assessment records exist, the earliest assessment date is used).
12.3.2

Public data sources

Publicly available data sources are typically aggregated (i.e., state, district, or school level) or de-identified individual level datasets that are available through various agencies such as state departments of education or federal agencies. These datasets are often extracted by downloading a file, although some organizations may have more sophisticated API capabilities. The quality of these datasets may vary. A few tips for working with publicly available datasets are:
Extract the data early on in your project.

Even if it is not the most up to date data that you need, it's important to get a sense early on for what the data looks like (e.g., what variables are included, what file types data is stored in, how the files are structured). This helps you prepare for future data wrangling needs.

Find the associated documentation and read it thoroughly. Types of documentation to look for are:

Data dictionaries or codebooks

These documents will help you interpret and use variables correctly

Changelogs

Public data sources are constantly updating (e.g., new data is acquired, errors are found). It's important to understand what version of the data you working with.

Data quality documentation

This documentation helps make you aware of any known issues in the data

Do not hesitate to reach out for help

Typically the site will include contact information for questions. Never hesitate to reach out to that contact if there is something you do not understand in the data.

If extracting data across states (e.g., Missouri Department of Elementary and Secondary Education and Oklahoma State Department of Education), be aware that the information may not be easily comparable. While you may find that some states use similar standards, it is common for states to collect and store data in different ways (e.g., different state assessments, different ways of reporting enrollment). Depending on your data needs, it may be better to use a data source that aggregates information across states. Examples of such data sources include the Department of Education's Common Core of Data 78 or EDFacts 79. Or if you are needing to use multiple data sources, other tools, such as the Urban Institute's Education Data Portal 80, have even harmonized variables and documentation across several federal government datasets, allowing researchers to access multiple data sources in a single site.