9

Data Tracking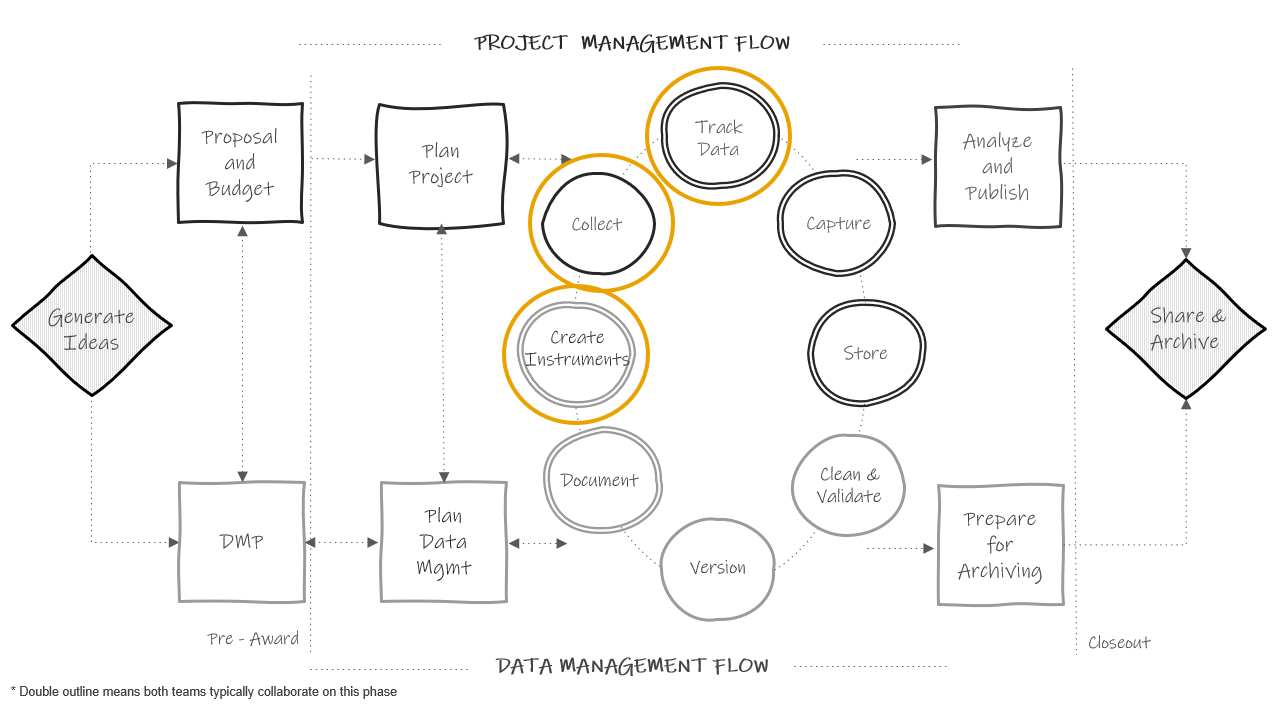 During your project you will want to be able to answer both progress and summary questions about your recruitment and data collection activities.
How many participants consented to be in our study? How many have we lost during our study and why?
How much progress have we made in this cycle of data collection? How much data do we have left to collect?
How many forms did we collect each cycle and why are we missing data for some forms?
Questions like these will arise many times throughout your study for both your own project coordination purposes, as well as for external progress reporting and publication purposes. Yet, how will you answer these questions? Will you dig through papers, search through emails, and download in progress data, each time you need to answer a question about the status of your project activities? A better solution is to track all project activities in a participant tracking database.
A participant tracking database is an essential component of both project management and data management. This database contains all study participants, their relevant study information, as well as tracking information about their completion of project milestones. This database has two underlying purposes.
To serve as a roster of study participants as well as a "master key"173 that houses both identifying participant information as well as assigned unique study identifiers.
To aid in project coordination and reporting, tracking the movement of participants as well as completion of study events throughout a study.
This database is considered your single source of truth concerning everything that happened throughout the duration of your project. Any time a participant consents to participate, drops from the study, changes their name, completes a data collection measure, is provided a payment, or moves locations, a project coordinator, or other designated team member, updates the information in this one location. Tracking administrative information in this one database, rather than across disparate spreadsheets, emails, and papers, ensures that you always have one definitive source to refer to when seeking answers about your sample and your project activities.
9.1

Benefits

A thorough and complete participant database that is updated regularly is beneficial for the following reasons:
Data de-identification

Assigning unique study identifiers that are only linked to a participant's true identity within this one database is necessary for maintaining participant confidentiality. This database is stored in a restricted secure location, separate from where de-identified study datasets are stored, and is typically destroyed at a period of time after a project's completion.

Project coordination and record keeping

This database can be used as a customer relation management (CRM) tool, storing all participant contact information, as well as tracking correspondence. It can also be used as a project coordination tool, storing scheduling information that is useful for planning activities such as data collection.
Integrating this database into your daily workflow allows your team to easily report the status of data collection activities (ex: as of today we have completed 124 out of 150 assessments). Furthermore, checking and tracking incoming data daily, compared to after data collection is complete, reduces the likelihood of missing data.
Last, thorough tracking allows you to explain missing data in reports and publications (ex: Teacher 1234 went on maternity leave).

Sample rostering

At any time you can pull a study roster from this database that accurately reflects a participant's current status. The tracking information contained in this tool also aids in the creation of documentation including the flow of participants in your CONSORT diagram.

Data cleaning

As part of your data cleaning process, all raw data sample sizes should compared against what is reported as complete in your participant database to ensure that no participants are missing from your final datasets
Furthermore, this database can be used for de-identifying data. If data is collected with identifiers such as name, a roster from the tracking database can be used to merge in unique study identifiers so that name can be removed. A similar process can be used to merge in other assigned variables contained in the database such as treatment or cohort.
9.2

Building your database

It is beneficial to build this database before you begin recruiting participants, typically during the same time that you are building your data collection tools. This way, as your team recruits and consents participants, you can record their name, assign them a study ID, and enter any other necessary identifying contact information into the participant database. Depending on your database system, you may even be able to scan and upload copies of your consent forms into the database.

While a project coordinator can build this database, it can be helpful to consult with a data manager, or someone with relational database expertise, when creating this system. This ensures that your system is set up efficiently and comprehensively.

This database may be a standalone structure, used only for tracking and anonymization purposes. Or it may be integrated as part of your larger study system, where all study data is collected and/or entered as well.
9.3

Entering data

Your last consideration when building your database will be, how do you want your team to enter data into your database? There are many ways to enter data including using SQL statements, importing data, integrating your data collection platform and your tracking database, or even scanning forms using QR codes. While some of those options may work great for your project, here we are going to talk about the two simplest and most common options: manually entering data into a spreadsheet view, and manually entering data into a form.
9.3.1

Entering data in a spreadsheet view

Your first option is to manually enter data in a spreadsheet format for each participant in a row. This would be the most common (or only) option when using tools such as Microsoft Excel or Google Sheets. However, you can also use this option when entering into other database tools such as Microsoft Access. There are both pros and cons to this method.
Pros: This is the quickest and easiest method. It also allows you to view all the data holistically.
Cons: This method can lead to errors if someone enters data on the wrong row/record.

9.3.2

Entering data in a form

Your second option is to create a form that is linked to your tables. As you enter data in your forms, it automatically populates your tables with the information. This option is possible in many systems including Microsoft Access, RedCap, and even Google Forms which populates into Google Sheets.
Pros: This method reduces data entry errors as you are only working on one participant form at a time
Cons: Takes some time, and possibly expertise, to set up the data entry forms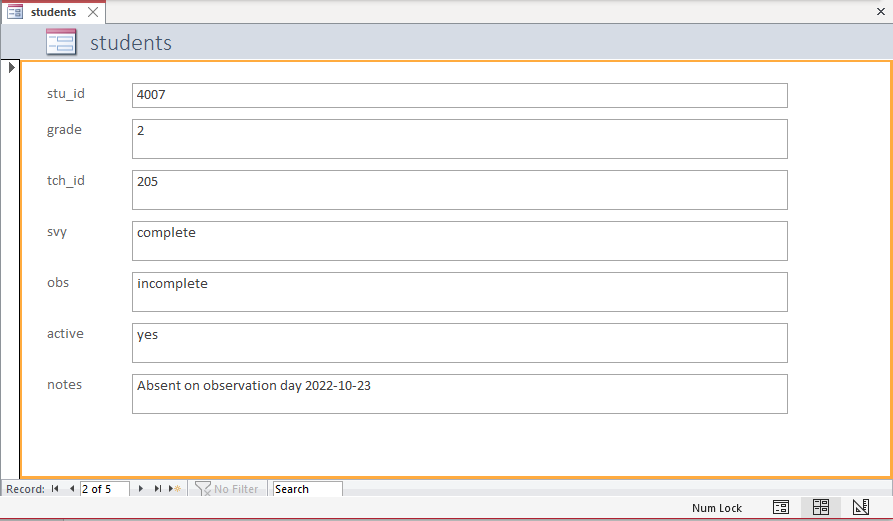 9.3.3

Other considerations

If your participant tracking database is separate from your data collection tools, all information will need to be entered by your team using one of these ways. However, if your participant tracking tool is also your data collection/data capture tool (such as those who collect data using RedCap), fields such as data collection status (ex: survey completed), may not be manually entry. Rather they may be automated to populate as "complete" once a participant submits their responses in the data collection tool.
9.4

Creating unique identifiers

Assigning unique identifiers (UIDs) is an important part of ensuring the protection of the privacy of human participants. Hopefully at this point your team has already created your study id schema and documented it in an SOP. However, since this is the point when you will begin actually assigning those IDs, this is a good time to discuss best practices for creating your unique identifier schema. There are several rules to consider when assigning your identifiers.
These identifiers are numeric or alphanumeric and typically range from 2-10 digits
They must be unique within entities and but also across entities to reduce confusion

For example, no duplicating IDs within students or across students and teachers

The identifier must be randomly assigned and be completely distinct from any participant information

The ID should not be associated with name, location, dob, income, grade level, and so forth
As an example, do not sort names alphabetically and then assign IDs in sequential order or do not include initials as part of the identifier

Participants must keep this same identifier for the entire project, never change a participant's ID

This applies across all waves of data collection
This even applies in circumstances where a participant has the opportunity to be re-recruited into your study more than once. The participant still keeps the same ID throughout the study. You can use other variables to identify the unique instances of that participant (ex: cohort associated with that participant)

If confidentiality was promised to schools or districts, assign identifiers to sites as well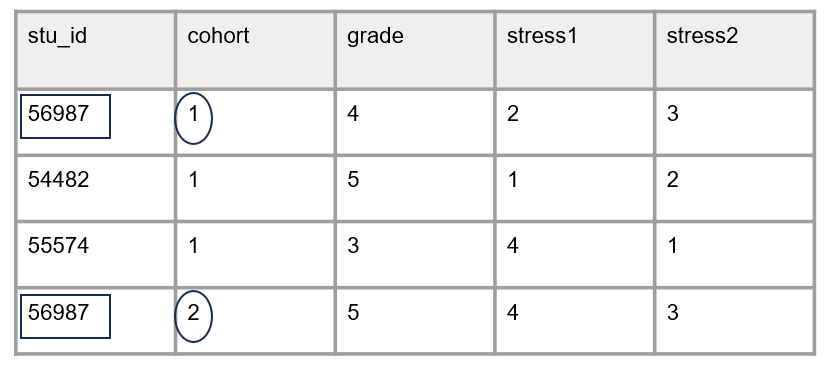 The only time you will not assign unique identifiers is when you collect anonymous data. In this situation you will not be able to assign identifiers since you will not know who participants are. However, it is still possible to assign identifiers to known entities such as school sites if anonymity is required.
9.5

Tracking best practices

Last, it is important to review how to use the participant tracking database. As mentioned earlier, this database should be created before you begin recruiting participants so that as soon as participants begin to consent, they can be added to your database. Then once data collection begins, your Institutional Review Board (IRB) approved staff member can begin tracking data as it is collected. Your team may designate one person to track, or they may designate multiple. If you are working across multiple sites, with multiple teams, you will most likely have one or more persons at each site tracking data as it comes in.

Since this is a highly sensitive database, not only may you want to restrict who has access to your database, but if your tool allows it, it can be helpful to also limit access to specific tables with identifiable information. For instance, project coordinators may have access to all information in the database (including sensitive data), while research assistants have limited access to tables that only include unique identifiers where they can track data collection completion. No matter who is tracking information, it is important to develop a tracking routine, assign roles and responsibilities, add your routine to an SOP.

Some tracking best practices include:
Update all relevant contact information in this database alone, not in other places.

Again, you can allow multiple people to update or designate one contact to funnel all updates through.

When tracking data (consents, paperwork, data collection forms) only track data that you physically have (paper or electronic)

Never track data as "complete" that someone tells you they collected

You can always mark this information in a "notes" field and track when you have the physical data

Track daily during data collection

Do not wait until the end of data collection to track what data was collected
This helps ensure that you don't miss the opportunity to collect data that you thought you had but never actually collected

Only track complete data as "complete"

If a form is only partially completed and you plan to send it back out to the field for completion, mark this in the "notes" but do not mark it as "completed". If you have a "partially completed" option, you can mark this option.